The New Disney Wallpaper Collection has Been Launched.
Are you tired of staring at dull, lifeless walls that offer no inspiration or joy? Do you yearn for a touch of magic to transform your living spaces? Disney got you covered.
They have released a new collection of wallpapers perfect for bringing magic to your screen.
Whether you're a fan of classic Disney princesses like Cinderella and Belle or you prefer the more modern characters like Elsa and Anna, there's a wallpaper for everyone in this new collection.
So why wait? Let's explore new masterpieces by Disney.
Best Wallpapers from the New Disney Wallpaper Collection
Disney`s Mickey at the Farm Wallpaper by Sandersons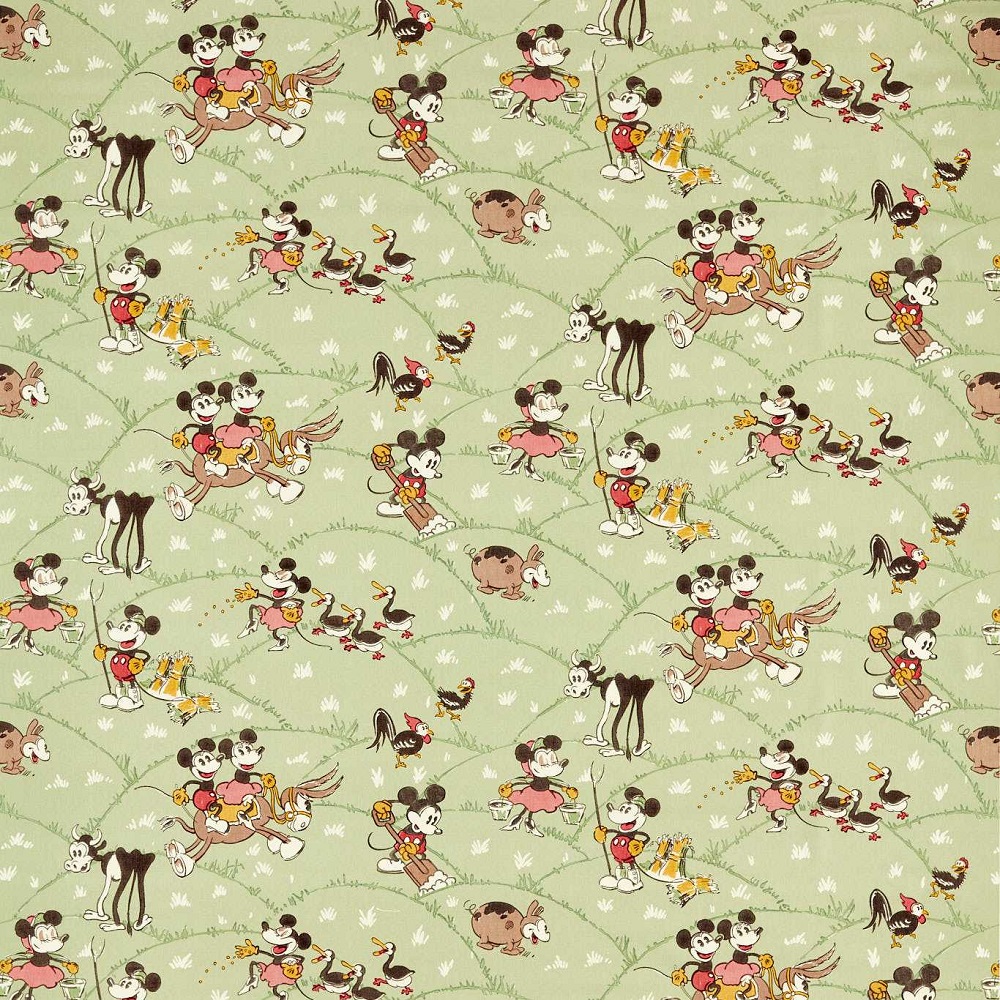 "Mickey at the Farm" is a Disney wallpaper dressed in the soothing Macaron Green hue. This wallpaper paints a picturesque scene where Mickey and Minnie Mouse are in their element, enjoying the outdoors like lifelong friends on a memorable journey.
This wallpaper doesn't just bring charm; it also pays tribute to Disney's rich history. It preserves the intricate block print details of the original 1928 design, offering a genuine touch of nostalgia.
Spanning 68.6 cm in width and extending 10.05 meters, it provides ample coverage to revamp any room. The pattern match, set as a Half Drop Match, ensures a seamless and visually pleasing finish.
It offers you two archival colorways: the Macroon green and the butterscotch. It's an opportunity to infuse your living space with the timeless allure of Disney, making every day feel like a cherished adventure.
Disney's Mickey at the Farm wallpaper invites you into a world where ease, fun, and fond memories coexist, whether you want to completely redecorate a room or just one wall. It's more than wallpaper—a historical relic from Disney's long and illustrious history.
Disney`s Mickey and Minnie Wallpaper by Sandersons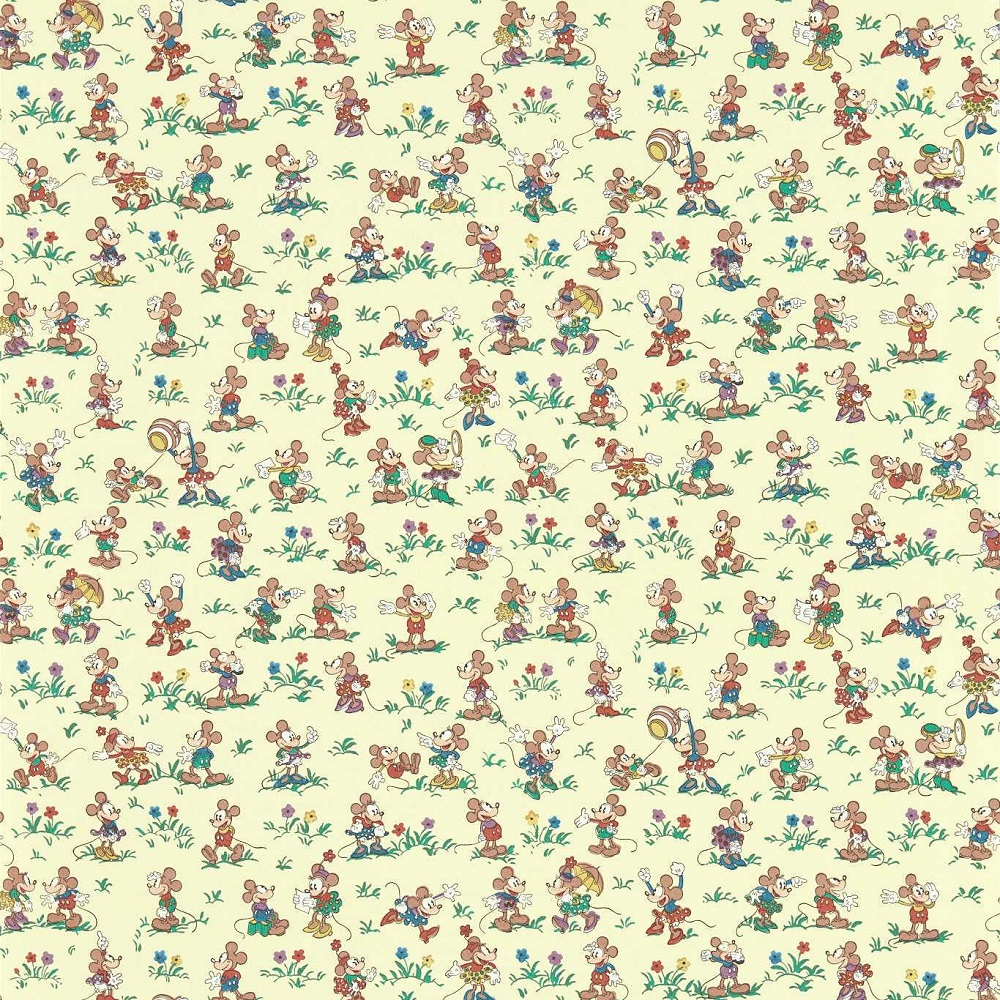 Mickey & Minnie Wallpaper is like a joyful blast from the past. Disney's iconic Mickey and Minnie are on a whimsical adventure through this playful 1934 Sanderson design, faithfully recreated in the same scale and colorways as the original hand-blocked archive masterpiece.
This wallpaper is all about happiness. It's like capturing the essence of a carefree day with the world's most beloved animated duo. The design is so full of life that it can transform any space into a place where fun, laughter, and cherished memories come to life.
You have four fantastic colorways: Allsorts, Rhubarb & Custard, Bonbon Blue, and Gumball Green. But let's focus on Rhubarb & Custard for a moment – it's like adding a sweet touch to your room that's both nostalgic and contemporary, creating a perfect backdrop for your space.
With dimensions of 68.6 cm in width and a generous 10.05-meter length, this wallpaper allows you to experiment and revamp your living space as you please. It's versatile, just like Mickey and Minnie themselves.
Disney`s Alice in Wonderland Wallpaper by Sandersons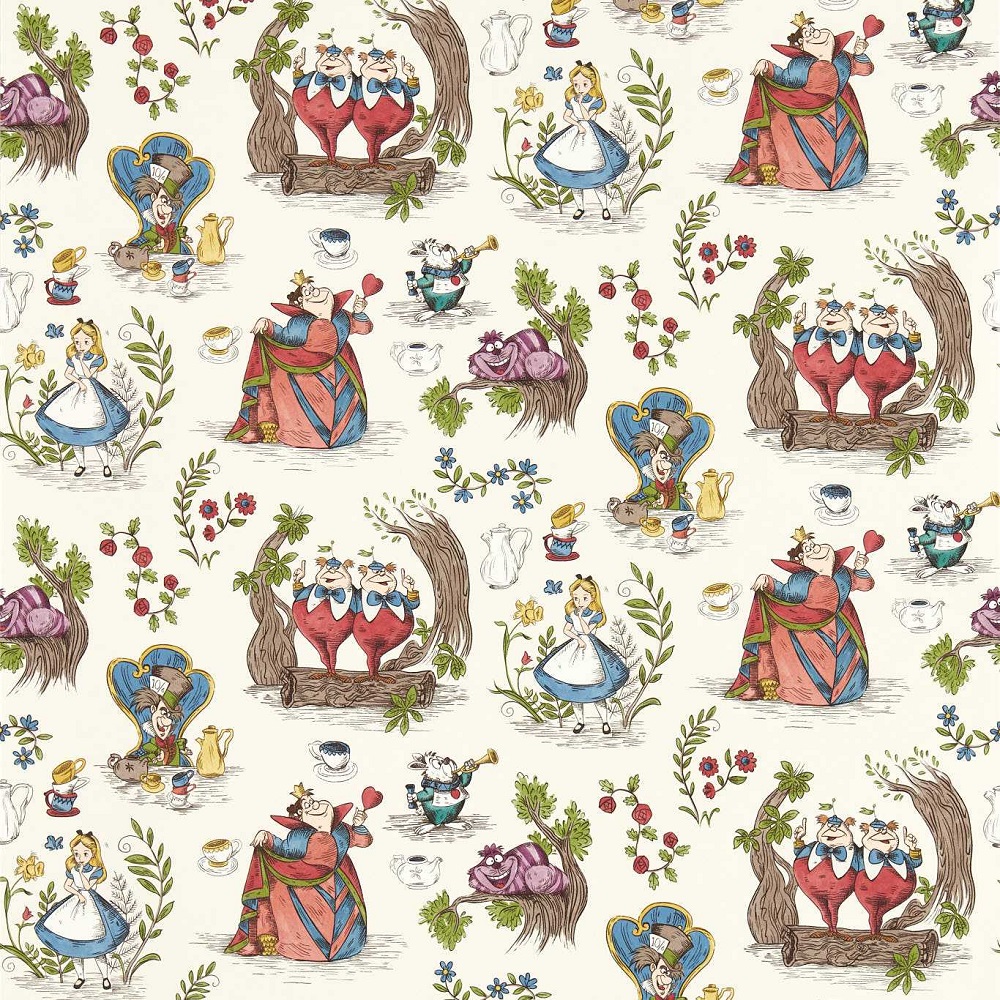 This wallpaper brings the beloved characters to life, with the White Rabbit leading as you encounter the Mad Hatter, the Cheshire Cat, and the mischievous twins, Tweedledum and Tweedledee. Each character has been meticulously hand-painted using original Disney artwork, making it feel like you've stepped into the story.
You have four enchanting color options: Chocolate, Gumball Green, Hundreds and Thousands, and Puddle Blue. But let's focus on Gumball Green – it's like a vibrant gateway into Wonderland, adding a playful touch to your space.
Create a magical wonderland for your kids by using this wallpaper in Gumball Green. It's the perfect backdrop for their imagination to flourish, making bedtime stories even more enchanting.
If you have a playroom or creative space, this wallpaper can turn it into a delightful and inspiring area. The vibrant green adds energy and creativity to the room, making it a hub for imagination.
Snow White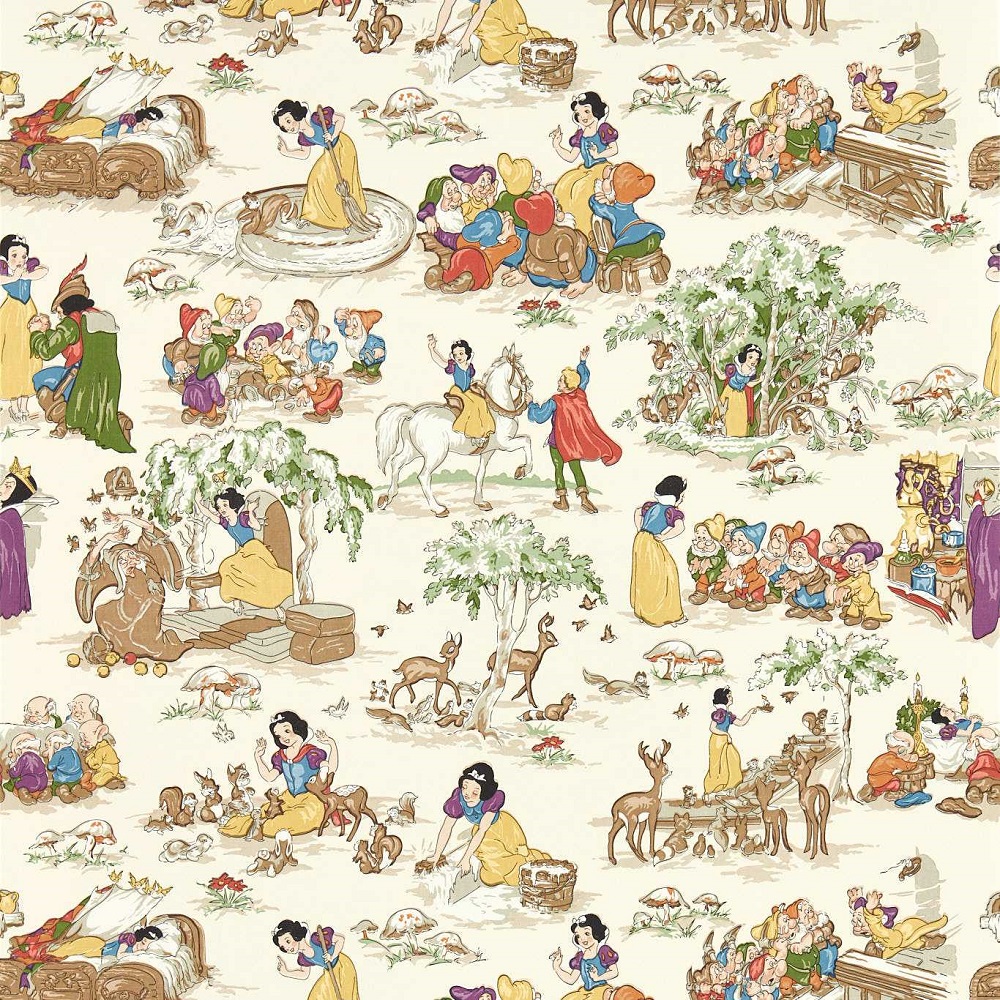 This wallpaper is a special tribute to the 1938 classic film, capturing beloved scenes directly from the original movie. It's like a piece of cinematic history right on your walls.
You can choose between two delightful color options – Puddle Blue and Whipped Cream. It boasts a width of 68.6 cm and a length of 10.05 meters, providing ample wall coverage.
Notably, it features a horizontal pattern repeat of 0.0 cm and a vertical pattern repeat of 56.3 cm, making it easy to apply and ensuring a seamless look. The pattern match is a straight match, simplifying the installation process.
Transform your bedroom into a dreamy fairy-tale haven by applying this wallpaper to one of the walls. It transports you to the heart of a storybook, making bedtime feel like a magical journey.
BAMBI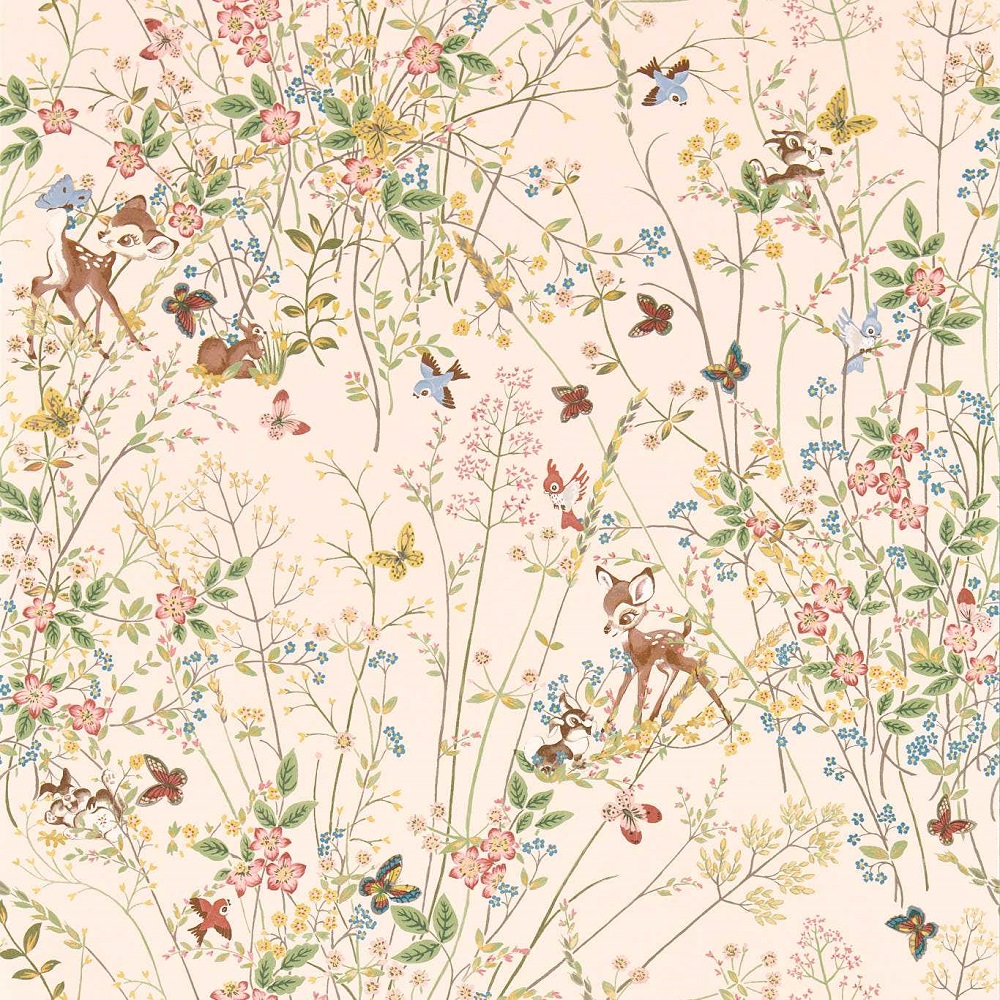 Crafted exclusively for the Disney Home x Sanderson collection, this masterpiece is more than just wallpaper; it's a work of art. Hand-painted in rich gouache, it captures the essence of quintessential English charm, bringing a touch of magic to your home.
This wallpaper offers a versatile and elegant addition to any room in four captivating colorways, including Sugared Almonds, Sea Salt, Neapolitan, and Chocolate. Sugared Almonds, is a gentle and soothing hue that adds a touch of serenity to your space, creating a tranquil oasis for relaxation.
Sea Salt gives the coastal vibes with Sea Salt, a colorway that exudes freshness and sophistication reminiscent of ocean breezes. Also, You can sweeten your surroundings with the delightful Neapolitan shade, an exquisite blend of pastels that's perfect for a playful and cheerful atmosphere.
And with Chocolate, you can get in the warmth and richness of Chocolate, a hue that adds a touch of coziness and elegance to your home.
Peter Pan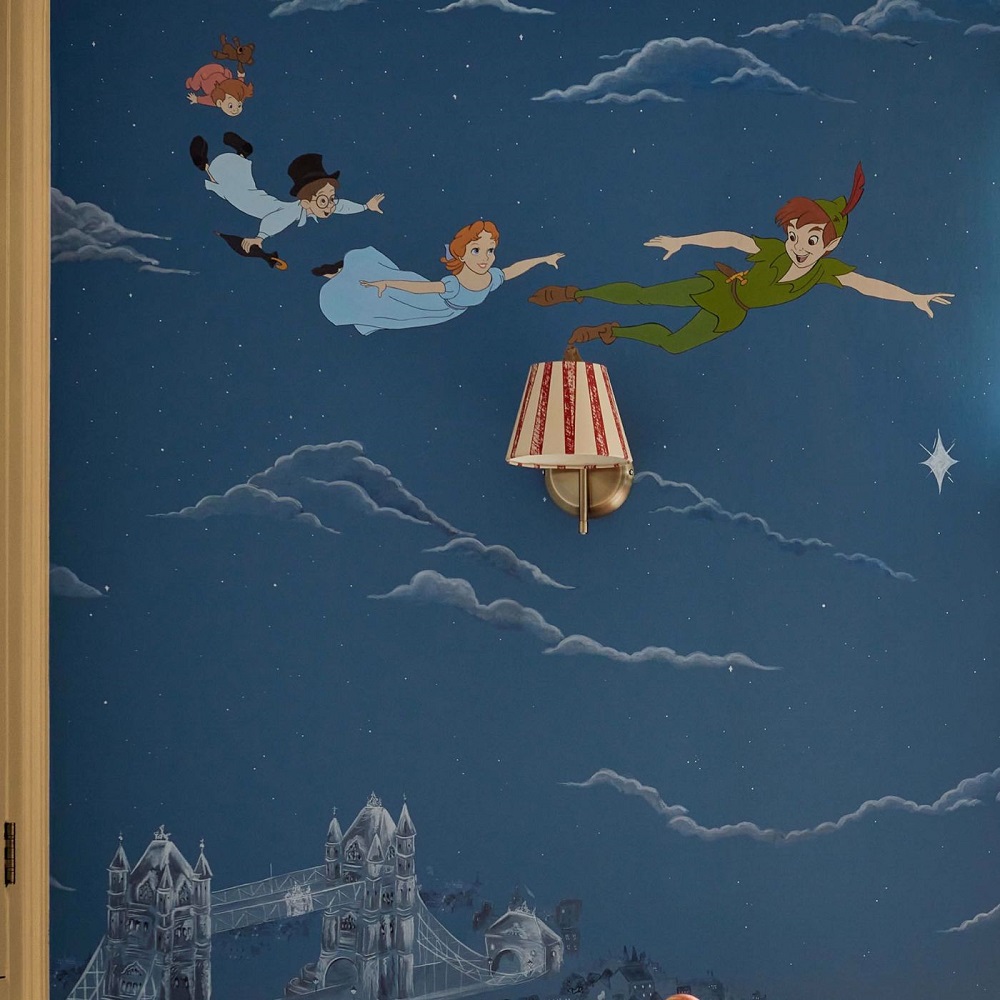 Peter Pan Evening Blue Wallpaper by Sanderson is a masterpiece that transports one into the enchanting world of Disney as Peter Pan gracefully soars above London's iconic skyline.
With silvery moonlight casting shards of radiance, the mural spans an impressive 300cm x 204cm, drawing inspiration from original Disney-style guides and iconic movie stills.
It is available in Evening Blue color way a deep, rich hue that sets the stage for a truly immersive experience. As per dimensions, it offers a width of 68.6 cm, providing versatility and ease of installation, and a length of 10.30 meters, offering ample coverage for various room sizes.
With a vertical pattern repeat of 300.0 cm, every inch of your wall becomes a canvas of enchantment. Moreover, it features a straight-match pattern for seamless and polished installation.
Mickey Stripe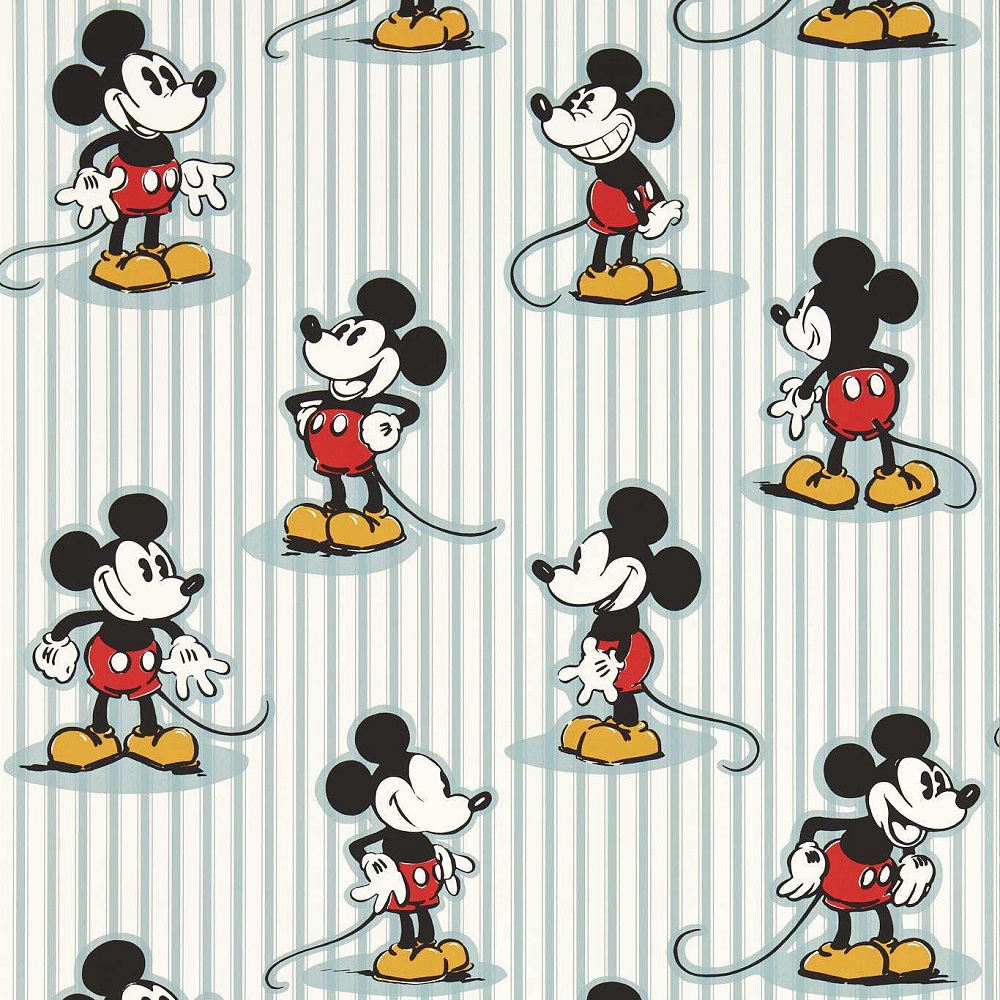 The delightful Mickey Stripe Sea Salt Wallpaper is a fusion of two timeless classics: Sanderson's Tiger Stripe fabric and the beloved Disney icon Mickey Mouse. This versatile design combines the best of both worlds, combining Tiger Stripe's sophistication with Mickey's playful charm.
Mickey's iconic and fun poses are drawn from an original black-and-white Disney character sketch. They are artfully outlined to resemble much-loved stickers, creating a unique and whimsical wall covering that will delight Disney enthusiasts of all ages.
It is also available in Sea Salt Colorway, which adds a touch of elegance to any space. In addition to Sea Salt, you can choose from two other charming options, Humbug and Peanut, to customize your decor.
In A Nutshell
Disney's new wallpaper collection has revolutionized the home decor industry. These wallpapers bring the joy of Disney into your home with charming designs inspired by popular characters like Bambi and Peter Pan, as well as the fun sophistication of Mickey Stripe.
So why wait? Choose your favorite design from this extraordinary collection and let your walls become a canvas of enchantment.
Enjoyed this article? Share on social!